Hoenderdos
The beauty of software is that it can make complicated processes simple. And that's exactly what Michel Hoenderdos of Hoenderdos Constructie & RVS was looking for.
Customer interview: Hoenderdos
Sara de Waal, 15 november 2021 - Hilversum, The Netherlands
'The beauty of software is that it can make complicated processes simple. And that's exactly what Michel Hoenderdos of Hoenderdos Constructie & RVS was looking for: a way to simplify and streamline registration processes within his company.'
As an owner, it's important for him to keep track of what his employees are doing, when they are doing it, and how much time and material it takes. Not only to have an overview of the progress of projects, but also to be able to make a good calculation of the remuneration. So: we arranged that. In close consultation with Hoenderdos, we developed an automated system for the registration of all their projects, including accurate time registration. Michel is enthusiastic: 'We're very happy with it: the administration is now running smoothly!'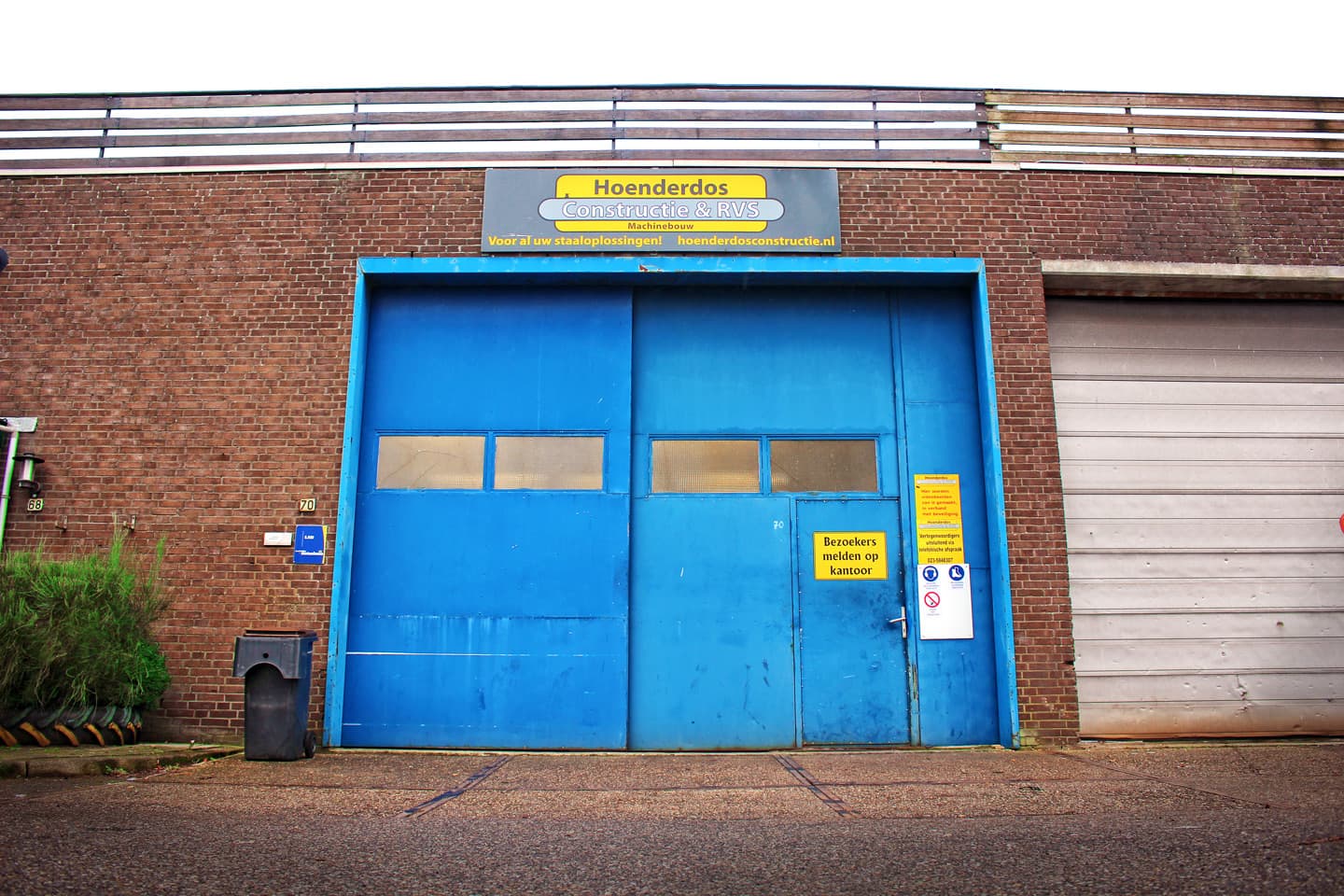 "Software has to adapt to the business, with the FileMaker platform we can create a custom suite of apps that we can grow with the wishes of the customer, that is essential."

Maarten Huijs

Product Owner - Hoenderdos RVS
Partner - Kempen Automatisering
Hoenderdos Construction
About the company: what does Hoenderdos make? 'We make everything!' is the slogan of Hoenderdos Constructie & RVS Machinebouw.
And indeed: a look at the website shows that Michel Hoenderdos' company makes stairs, tables, kitchens, fences, window frames and of course machines. They make entire production lines for major customers such as Duyvis or Coca Cola, but also supply fencing for private individuals.
The workshop is in Zwaanshoek, where the structures are manufactured, often in parts. These parts then go to the customer, where the construction is assembled on site.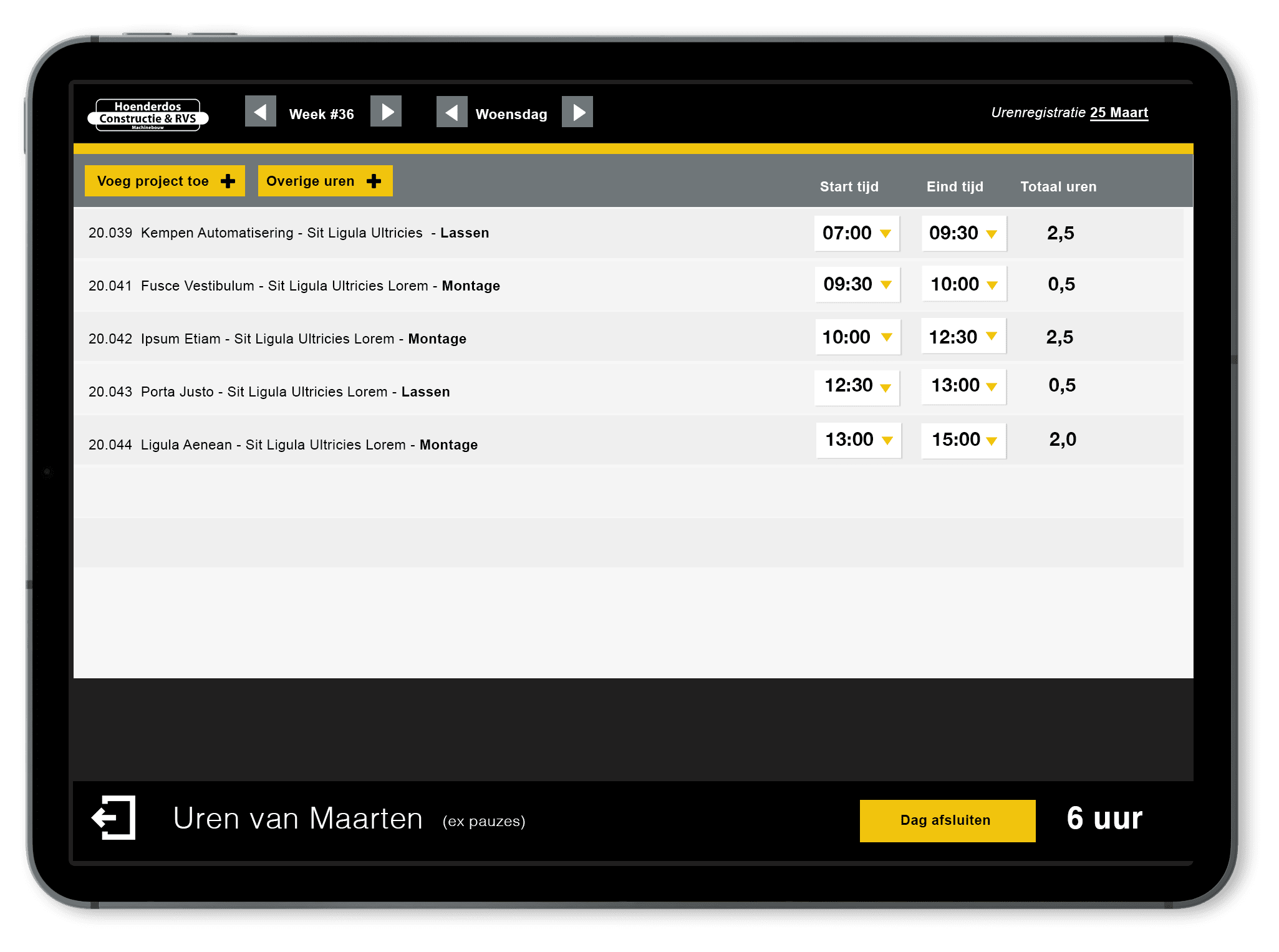 "Bookkeeping is now running efficiently and the invoices can be sent out quickly!"

Jacqueline Mosterd-Borreman

Hoenderdos Constructie & RVS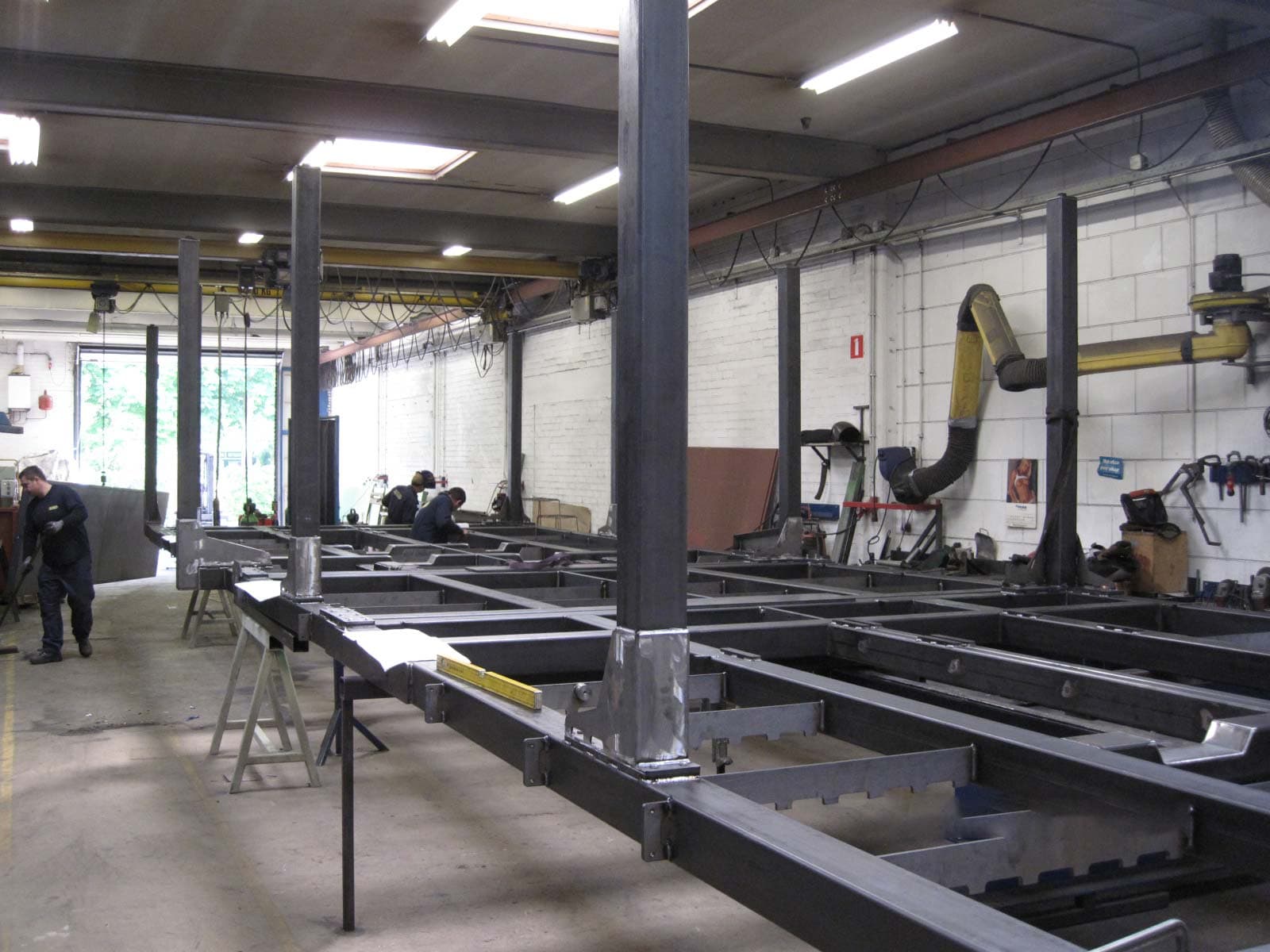 Hours and pay
What makes time registration and pay in this industry so complex, is that the Collective Labor Agreement (CLA) for the Metalworking Industry has a fairly extensive set of rules about working hours and allowances.
For example, there's a different pay for hours worked in the evening, at the weekend, overtime, and so on. It is, of course, important that the remuneration is carried out correctly. But it turned out to be difficult to find a system that could accurately keep track of these hours.
Jacqueline Mosterd-Borreman, responsible for the administration within Hoenderdos, explains: 'There is as yet no good standard registration software for metalworking companies. We tried a standard system for time registration, but it didn't meet the requirements of the industry: it wasn't possible to pay hours according to the right rates.
As a result, I had to manually adjust everything, which was also hard to achieve. We were also unable to properly link the hours to our projects, which made it difficult to monitor the progress of the projects. In this way, the processing of projects went slow and invoices were left behind'
Customization for the Metalworking Industry
Fortunately, Jacqueline knew a solution: FileMaker! Her husband's company was already making good use of this unique software system.
'I knew a lot was possible with this system, and that it was ideal for situations that required customization, such as ours. That's why I proposed to approach Kempen, the specialist in this field.'
Software developer Maarten Huijs of Kempen Automatisering explains what his team has done: 'We have had several conversations with Hoenderdos to map out exactly how they work and how we can make their work as easy as possible. Based on this, we have automated and linked five components: hours, materials, projects, invoices and customer data. The most customization is in the time registration: this is the first software system that exactly matches the CLA for the metalworking company.'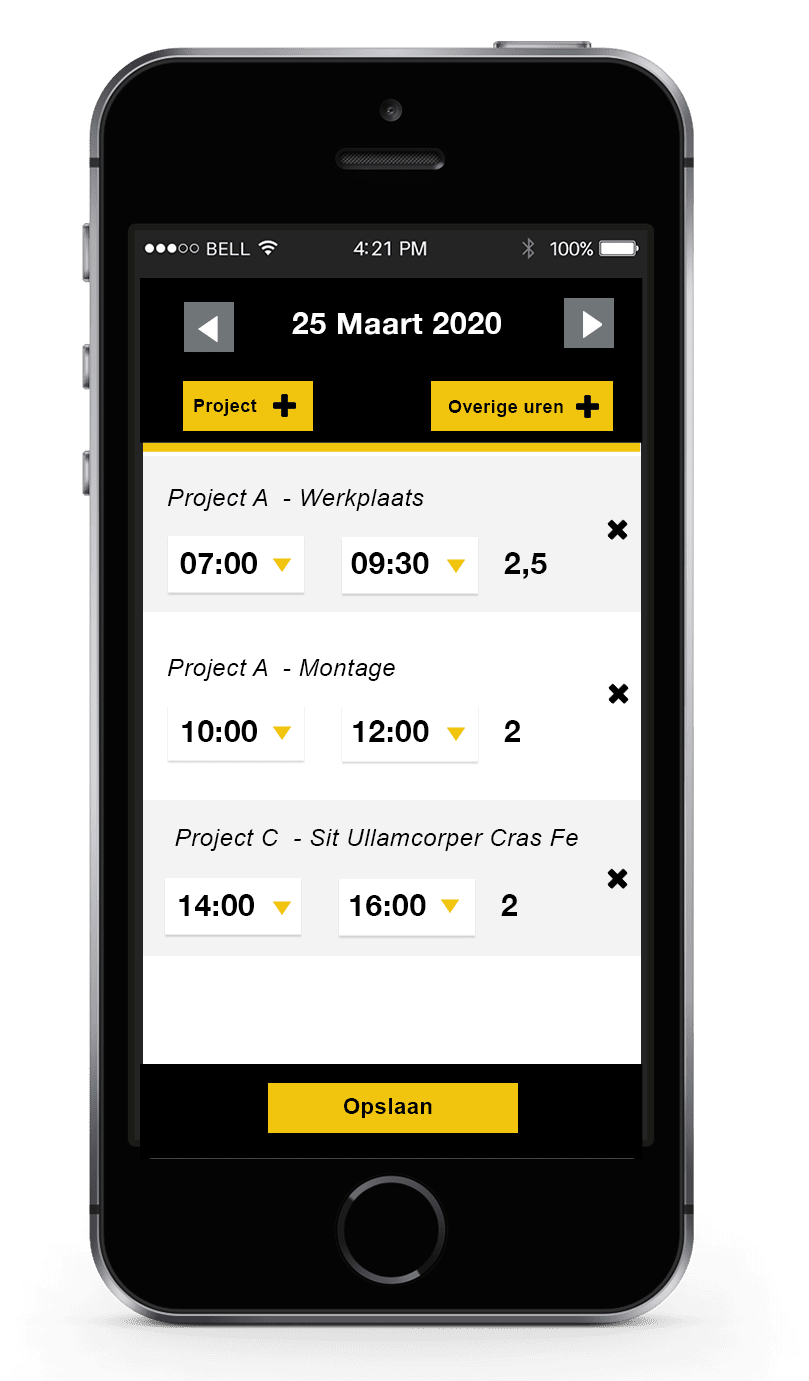 "Standard software never quite fits the processes within a company. Almost anything is possible in FileMaker!"

Jacqueline Mosterd-Borreman

Hoenderdos Constructie & RVS
Time registration between sparks and heavy metal
The time registration in the system had to be as user-friendly as possible, because the employees enter the hours on site in the workshop. Maarten: 'Filling in hours when the sparks are flying around your head is different than when you are sitting quietly at your desk. That's why we've created an orderly program with large buttons and a lot of contrast. Entering time worked on a specific project is a quick, simple action.'
Jacqueline agrees: 'Registration goes smoothly! Of course it took some getting used to for the older employees, but the introduction of this system didn't cause any problems. The clear layout makes a big difference. The employees only have to enter their start and end times per project, and the materials used. They do this on an iPad in the workshop.
If parts have to be assembled on site at the customer, they enter the data there on their telephone, because Kempen has also made a mobile interface. When the project is finished, the employees close it in the system. If needed, I can easily make corrections. Then the system can make a calculation of all costs, and I can send out an invoice immediately, which is very nice.'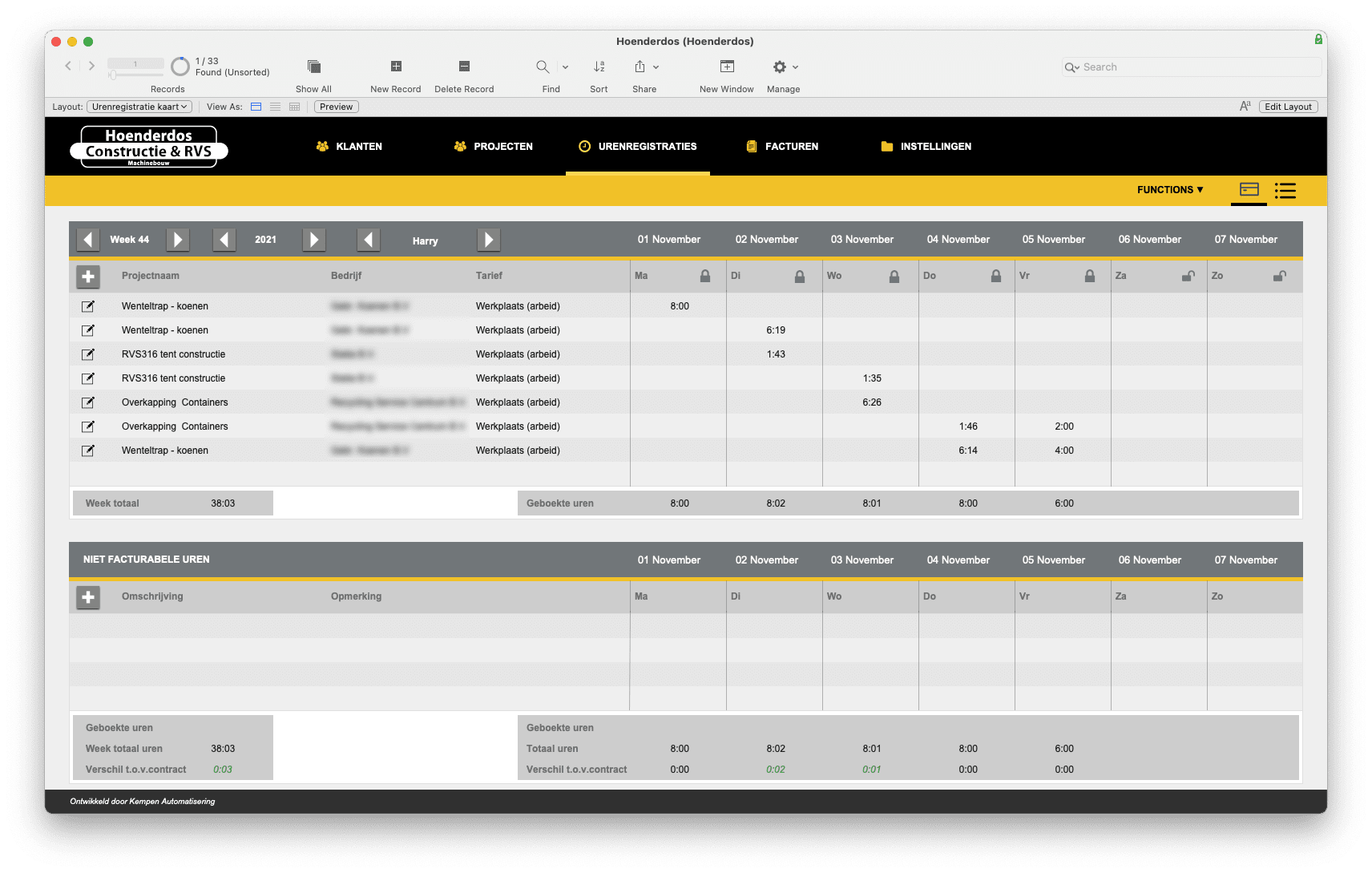 Combination of logic and empathy
Hoenderdos is extremely pleased with the collaboration with Kempen Automatisering. 'First of all, FileMaker is just an ideal system: you can do almost anything with it. Completely different from standard software systems, which never quite fit the processes within a company.
But apart from the system, the developers of Kempen Automatisering are just really good at their job,' explains Jacqueline. 'What I like so much about them is that they really think along with you and imagine what it is like to work with the system in your company.
To illustrate: I wanted to have a number of data lists in the system. They thought about this and suggested: 'If you put this and that together, you only need one list instead of several.' That combination of logic and empathy is characteristic of Kempen.'